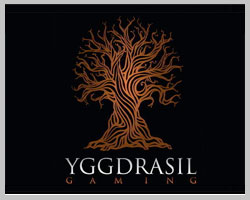 Naming a company can sometimes be the toughest decision that a group of founders has to make early on in their lifetime.  In the casino industry, it seems like every name has been taken either by a software vendor or an operator.  So it is no surprise to see companies like Yggdrasil Gaming extend their search outside traditional gaming terms to find their name.
In Norse mythology, the Yggdrasil tree is the Tree of Life, a giant tree that provides for all.  How that translates into gaming escapes me, but it does allow the company to have a unique spot in the industry and an excellent logo as well.  But does the company itself live up to the immense imagery of their name?  Let's have a look at Yggdrasil Gaming in a little more detail.
A Brief History of Yggdrasil Gaming
I am sure no one would be shocked to find out that the founders of this company have experience from other industry firms.  In fact, one of the founders of Yggdrasil Gaming, Fredrik Elmqvist, was the CEO of Net Ent for a period of time.
The company was formed in Malta in early 2013, and at that time they started building out their games and most importantly their Random Number Generator.  Once the company received certification of the software and a gaming license from the Malta Gaming Authority in June of that year, they were ready to take their products to market
They are considered to be a niche gaming company, focusing on only a few products meant to enhance the offering of any online gaming site.  This strategy has worked well for them; you can find their games scattered across the industry.  They are mainly being used by companies who focus on the Nordic regions, but that doesn't mean that the games aren't fun to play for players across the globe.
Even though this developer has only been in business for a few years, it has already made its mark in the gaming industry.  Yggdrasil has been rewarded with many awards, such as "Slot Provider of the Year" for 2016 and 2017 at the EGR B2B Gaming Awards, and the "Innovator of the Year" Award from the International Gaming Awards.  This has made Yggdrasil games very sought-after by clients across the globe.
Product Line
Yggdrasil has several different types of games available for licensees to offer to players.  All of the games are built to be played via browser, and they have all been modified to accommodate the different sizes of mobile devices as well.
The lottery product is meant to replicate a large scale land-based lottery, and in fact, some of their clients have used the product to offer players the chance to play along with the numbers being drawn at multiple government lotteries around the world.  The lottery business is very lucrative in the Scandinavian markets, so it is not surprising to see many licensees taking advantage of this product.
The company also built a Keno game, focusing on the social player who would also like lottery play.  As the game produces big jackpots but the odds are stacked against the player, Keno is very popular amongst casino operators.  The Yggdrasil games feature excellent graphics and speed, two main components of keeping the players' interest levels high.
There are a few digital slot machines also available from Yggdrasil Gaming.  These days, content is the name of the gaming in the online casino industry, so being able to add games with a unique look is very attractive to current operators.  Games like Cazino Zeppelin and Draglings were added recently by the company, which is an excellent sign as it shows that their developers are still pushing forward to increase their catalog.
Recently, the company announced that it was releasing some multi-player bingo software.  We can assume that this is in response to the success of their other social-based games.  We don't have very much information on this product, but as it becomes more readily available, we will update this page.
Conclusion
It seems in the last few years, niche gaming companies have burst onto the online gambling landscape.  Each provides clients with a slightly different take on the traditional software, and we think this is a great way for the industry to stay innovative.  While larger companies have to continually update their current product for their existing licensees, adding new, unique products from companies like Yggdrasil Gaming ensure that players won't find a site to be stale after multiple visits.  We applaud Yggdrasil for their achievements to date, and we are very much looking forward to seeing where the next few years takes them.