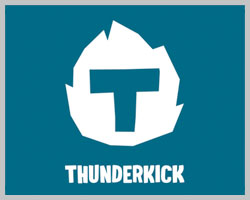 There is a growing trend in the online gaming industry of new software companies being born of employees who worked for larger firms. These people tend to find a problem that needs solving, and rather than wait for their business to make changes, they go it on their own. Such is the case of Thunderkick, a Stockholm based company that is one of the newer ones on the market.
A Brief History of Thunderkick
Head to their website, and you were greeted with a simple statement. "We are Thunderkick, and we make games!" We love how simple and to the point this is: we don't want a games developer to split focus from their core competency.
The guys behind Thunderkick came from Net Ent software (where have we heard this one before). Some of the development team from Net Ent decided they would go on their own and create some games with more of their individual input. Seeing how excellent the quality of the Net Ent games is, it is easy to say that we expect to see similar levels from the Thunderkick games.
The company was formed in 2012, meaning they are part of a new wave of niche companies that have cropped up in the last 5 years. These companies like Thunderkick are not looking to take on a full casino operator. In fact, all they have developed are slots games so they couldn't have a full casino licensee even if they wanted to!
The company built a few slots games and then worked to get them into some European casinos. Leveraging their contact lists from their time at Net Ent, the team was able to get their games into the Unibet casino in 2014. This was just the tip of the iceberg for these guys. A few more big name casinos agreed to add these high-quality slots to their offering in 2014. Since the slots are built in HTML5, they are easy to integrate into a casino operator's current site. This ease of access makes adding Thunderkick games a simple process, which is what an operator wants when making the decision to pick up new content.
In the middle of 2014, the company signed an agreement to have their games distributed by NYX Gaming. NYX is another Swedish company that would be considered a rival of Net Ent, so adding games that have more of a Net Ent thyme to their existing list of slots would have been considered something of a coup for the management team. For Thunderkick, it meant instant access to the NYX client list, which was going to be excellent for the company's overall bottom line.
One knock on the Thunderkick group is that it seems to take a very long time to release new games. The good news is that this is a definite sign that the developers are keeping the work in-house as opposed to farming out parts to other development shops. For a company that has staked its reputation on the quality of its games, this is crucial to their success. So, while it may take longer than some of their larger competitors who have more staff on board, the quality of the Thunderkick games continues to maintain the high quality that operators and players have come to love.
Today, you can find Thunderkick games in well over 50 different online casinos, including brands like Unibet, Mr. Green, Rizk, and many other well-known brands.
Product Line
As mentioned, all that Thunderkick makes are slots games currently. At last check, there are 22 different titles offered by the company to players with many more currently in development.
For the time being, there are no signs of the development being expanded to table games or video poker. We are thrilled to hear that; we want developers to stick to their skill sets, and the niche that Thunderkick has carved out for themselves seems to have had success over the last few years.
Conclusion
Thunderkick is one of those companies that you likely haven't heard of, and likely will forget the name of soon after reading this review. However, what you will remember is the quality for the games they have produced. While there isn't the sheer volume of games that you might find at another, larger software provider, the games you will play feature excellent graphics and gameplay. The proof is in the pudding: the slots built by Thunderkick are part of well over 50 different online casinos, and we see no reason that this number won't grow to 100 and more in a short period of time.