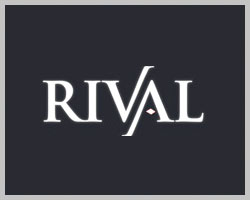 Rival Gaming is not one of the household names when it comes to online casino software. In fact, you may not even know they exist except that you have likely come across a couple of their slot machines in your casino travels. The company is much smaller than many of its competitors, but that does not mean that Rival has nothing to offer that you haven't already seen. They are very focused on a couple of their products, and as you will see after giving them a try, it is worth your time to search out their games when you are looking for a place to play.
A Brief History of Rival.
Rival software started in Canada in the early 2000s. Canada is home to many online gaming software companies, and in the early days of the casino, they were a world leader, with companies like Cryptologic creating a huge buzz in the industry. While there isn't much information to be found on the founders of Rival (then called Rival Powered), it is safe to say that the company was looking to tag on to what was an incredibly exciting industry full of potential.
Unfortunately for the folks at Rival, the timing of their launch was about as poor as it could get. 2006 started out as a great year in the business, but by the end, the U.S. market was in tatters after the enactment of the Unlawful Internet Gambling Enforcement Act. Rival, who was solely focused on the American casino market, was crippled by the news and had to make some internal decisions about the future of the company.
When they started out, Rival wanted to have operators all to themselves, often not agreeing to work with a casino who had other software agreements. However, the industry was shifting to a content-driven model, which favored companies that provided just their best games to an operator. The management team at Rival made the decision to change their philosophy on their place in an operator's business, and this turned out to be a wise move as they added many licensees over the next few years.
Even though the business was moving in the right direction, it seems as though trouble has been following Rival Gaming for years. To generate revenue, the company added clients from wherever they could find them, but this too often found them having to clean up the messes of some rogue operators. Complaints about Rival licensees were stacking up, with the majority of players who had created accounts with these site realizing that they were being scammed and were never going to get paid.
This was, of course, a very difficult position for Rival to be put in. They did their best to try to fix the issues, closing down many sites, but several of those sites remain up today, and you will find them on our list of blacklisted sites.
It seems as though Rival has done everything in their power to clean up their act, and it is showing in the contracts they have landed recently. They have a couple of excellent games which are buoying their company's revenues and given the trajectory they are currently on, the future certainly looks brighter than it did a few short years ago.
Product Line
Rival is first and foremost a slots provider. They have several types of slots games available, including traditional 3 reel games, 5 reel digital games and their best product, i-Slots.
The i-Slots are built with a storyline in mind; the games take a player along with a journey and feature characters that advance along with the gameplay. The theory behind building these games was simple: by creating a storyline that players could follow along, the games would be more interesting than a standard slot machine and therefore would keep players in the games longer.
The gamble on these games was a success, with the i-Slots being loved across the globe. In fact, we have seen many other software developers start to add more storylines to their games in response to the popularity of the i-Slots catalog.
Of course, Rival does have a full suite of casino games to complement the excellent slots titles. We wouldn't say these games will blow you out of the water, but they are passable. As it turns out, you likely won't find more than the i-Slots at many of their current licensees.
Conclusion
Rival Gaming is unlikely to win away any clients from some of their larger competition anytime soon. The company simply isn't built for that, and they have smartly taken the road of being more of a niche brand. Their 3D intensive slots are some of the best in the industry, and working with them as the lead product is what is going to propel Rival into future success in an increasingly competitive online casino industry.