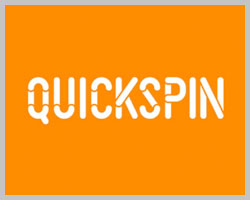 Although the online casino industry has been around since the 1990s, and casino games haven't changed all that much since their introduction, there is still room for a company to come out of nowhere, build a niche market and become incredibly profitable in a short period of time. This is the story of one such group: Quickspin.
A Brief History of Quickspin
Like many new companies in the online casino landscape, Quickspin was created by founders with expertise in other facets of the industry. In fact, two of the three founders of Quickspin, Daniel Lindberg and Mats Westerlund, both came from many years working at Net Entertainment, one of the industry leaders in software development.
Along with Joachim Timmermans, who had spent seven years as a director at Unibet, the ex-Net Ent employees started Quickspin in 2012, with one specific goal in mind: to develop a series of slots games that featured high-quality graphics but were also mobile-friendly. The mobile gaming industry was blossoming with the continued improvement of smartphone technology, and this group felt they could carve out a nice business for them with this singular focus.
It did not take long for Quickspin to build their client roster. To their advantage, another shift was taking place in the online gambling industry. Many casinos which at one point only offered games from one supplier were now looking to add as much content as possible from any source. Having just a few slots games in their portfolio, Quickspin was an easy sell to many operators. They could easily add the Quickspin games to their catalog without having to switch providers, and since the games were all flash and HTML 5 based, there would be no need to integrate them into a competitor's back-end software.
Early in 2012, after being nominated for a "Rising Star" award at the EGR Awards, Quickspin entered into a partnership agreement with Game technology Solutions, and as a result, were incorporated into the package delivered to the GTS licensees. Later in 2012, they added a couple of large names to their portfolio with Expekt and Unibet agreeing to take their slots.
It didn't stop there; over the next 2 years, it seemed that Quickspin could not be stopped. Their games were added to dozens of casino operators, including many big names such as Gala, Bet365, and Coral. It didn't hurt that their newest slot game, Big Bad Wolf, won the award for Game of the Year from E-Gaming Review. This really put the company on the map, and the floodgates were opened. Ladbrokes, William Hill and the Rational Group (Full Tilt and PokerStars) all became clients within the next 12 months.
Not just a Real Money Provider
Quickspin realized the power of social gaming very early on and used their development skills to turn their portfolio into Facebook slots games as well. This would prove to be a very wise business decision. Whereas larger, full-scale casino developers had their hands full with continuing to innovate for their real-money clients, Quickspin had the flexibility to focus some of their efforts on this emerging market. This made their company even more valuable in the long run.
Decisions to Make
It is at this point the companies have to make a choice: continue to pour money into development, potentially having to raise capital through investment or an IPO, or look at other options. Well, in the case of Quickspin, their massive growth and their penetration into many of the top brands in the industry attracted a lot of interest in the company and their assets. One of the interested parties was the online casino giant Playtech, who were no strangers to growing their business by acquiring other successful companies.
In early 2016, an announcement was made that Playtech was going to purchase all the shares of Quickspin for 24 Million Euro in cash and up to an additional 26 Million in earnout. From inception to sale, the company had only been in business for 4 years but had become a desirable asset in the casino world.
Games Selection
As we mentioned, the Quickspin catalog consists of only slots games. These games, which are all mobile-friendly, include great titles like Mighty Arthur, Mayana and Sakura Fortune, just to name a few.