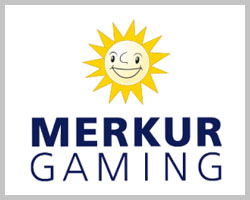 When you think about German engineering, likely the first thing that comes into your head is the automobile. Who are we kidding, though…the Germans have been pretty amazing at most things they put their minds too, and this is no different when it comes to gaming. We are going to look at Merkur Gaming, a company that is relatively new on the online casino landscape but has a rich history in the land-based world.
A Brief History Of Merkur Gaming
Merkur Gaming is a subsidiary of the well known Gauselmann Group. The Gauselmann Group are involved in the land-based gaming industry and have been in business for over 50 years. They build games and the hardware to house these games, which are then sent to gaming properties all over the world.
As the online gaming world began to grow in the 2000s, the Gauselmann Group realized that there was some potential to apply their development skills to this new industry. However, breaking into the business isn't that easy; it is a highly competitive world with many companies whose sole focus is the online casino player.
Merkur Gaming's online business started in 2010, but it was a partnership early on with Inspired Gaming that gave the company an instant spark of credibility. Slowly, operators were beginning to look at the games that Merkur had built and began integrating them into their platforms.
The quality of the games was never in doubt, as Merkur had been building popular land-based games for many years. Converting these games for online play was no easy feat, but if you try some of their games, you will no doubt notice the quality German engineering we have come to know and admire.
Product Line
Merkur Gaming's online games division is primarily focused on slots games. This is not at all surprising when you think that they have been in the land-based slot machine business for most of their parent company's history.
As we mentioned earlier, the Merkur slots catalog started as online versions of the games that had become popular in land-based casinos. This made the speed to market much faster, as they only had to port these games over to be able to be played on a PC or laptop. Following that, the company has added many more games and now boasts over 100 slots titles for their operators to choose from. Some of the more popular titles include:
Magic Mirror
Super 7 Reels
Double Triple Chance
Blazing Star
Extra Wild
Golden Gate
Honey Bee
Ka-Boom
Lost Temple
These games feature stunning graphics, with HD-like movements and colors. They are all built in Flash and HTML5, meaning that they are built with today's leading technology for the gaming market.
The company also has started to get into the Table Games business, having launched a Blackjack game, along with Roulette and Baccarat. Still, at this point, it would be difficult for an operator to use Merkur Gaming's software as a standalone partner; it is more likely that the company would be integrated into a full casino lobby.
With games that are built in Flash and HTML, Merkur Gaming has ensured that their products will be easily accessible via the majority of mobile devices on the market. This is particularly important for the European casino market, which is years ahead of other areas when it comes to mobile game penetration.
Conclusion
As the company has not been in the online gaming business for that long, there isn't much more information to be had about Merkur Gaming. However, this is typical of a German-based company. They would prefer to put their heads down, work hard and let their products do the talking for them. If you check out sites like LeoVegas and Mr. Green, you will see some of the product line on display. Check out all our reviews to find out where you can play these high-quality slots games.