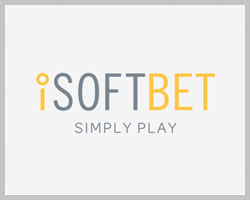 The online gambling world is notoriously narcissistic.  It is safe to say that while operators in the grey market areas of the world like to keep a low profile for obvious reasons, the rest of the industry love to let the world know who they are and what they are responsible for.  That is why when we are performing site reviews, it is almost always far too easy to find the information we are looking for.
We are shocked to find virtually no information on the history of iSoftBet, especially considering how much traction they have gained in the space.  A software company that boasts hundreds of their own games and several high-profile partnerships and clients, and yet…nothing.  No one is jumping up and down taking credit for the company.  No scandals that we can uncover.  All of this is very odd.  However, we will do what we can to present the facts about iSoftbet, so you know as much as we do!
It appears from all accounts that the company was first on the online casino scene in 2010.  Their website has the following to say about the company:
"We are an online and mobile casino games supplier, providing fun and profits to some of the world's largest and most successful e-gaming operators. We know what our clients are looking for – and they know they can trust us to develop and deliver games which captivate and entertain and maximise their revenue potential. Certified in Italy, Spain, Belgium, Portugal, Alderney and the UK, we are skilled at meeting the strict protocol challenges of all regulatory bodies."
That's all fine and dandy, but it doesn't really give us the genesis of the company.  What we do know is when they launched the company in 2010, they already had a full suite of almost 100 casino games available for operators. Given that information, we can ascertain that they either morphed from another casino company or they were working behind the scenes for years building the platform.
While it is clear they wanted to be in the development game, the management team at iSoftBet also realized that there was a need for operators to have a more managed product, allowing them to focus on marketing and customer support.  There is an entire section of the iSoftBet website dedicated to their Game Aggregation Platform.  This platform was designed to easily integrate any or all of over a dozen providers into one casino lobby.  This type of integrated, managed platform is exactly what is needed in this day and age of online casinos.  Many operators are looking for content from multiple providers, but that can lead to very poorly designed lobby navigation.  This can be a real turn-off for a player, so having a company like iSoftBet step up, create partnerships with all of these software companies, and build a generic platform for them to all coexist is very forward-thinking of them.
Today, you can find the iSoftBet games being used by many clients, including some very well-known brands such as LeoVegas, Betclic,  and Full Tilt.
Product Line
The iSoftBet casino games are dominated by slots games.  This is where a developer can spend significant time on content as well as the look and feel.  The company also has a full range of table games, although their strength seems to lie in the slots catalog.
As we have discussed, the iSoftBet product that is the most intriguing is the Game Aggregation platform.  While this hits the company's bottom line when it comes to revenue from its own games, allowing an operator to pick and choose content from multiple vendors is an excellent selling point, and no doubt iSoftBet takes a fee for managing and providing this aggregator.
The developer has expanded their reach into social gaming, having repurposed some of their titles to be used on Facebook.  While these provide a different revenue stream than traditional real money games, the social casino world continues to grow, showing that players are willing to pay for entertainment versus just the chance to win money at these games.
Conclusion
iSoftBet has been somewhat of an enigma since they came into the industry around 2010.  Not only is it difficult to find out much about the company except that they definitely have offices in London and Luxembourg, but it is also difficult to figure out exactly what they want to be to their clients.  While they have their own set of games to offer, it seems they have found a niche in providing their clients with a platform with which they can choose content not only from iSoftBet but from many other competing casino developers.  Whatever the case, we hope you have a look at the games this company has to offer, and if you like what you see, then you can read some of our reviews to find out where the iSoftBet platform can be found.